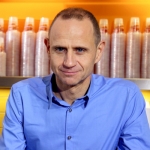 I'll be appearing on BBC2 next week, as one of the interviewees in three part series Business Nightmares, with Evan Davis. I'll be appearing in all three episodes, which cover product design and manufacture, marketing and PR and strategy and deals, discussing stories such as Sunny Delight, Hoover free flights, Ratner, Mini, New Coke and Cadbury Get Active.
The series has been made in conjunction with the Open University and focusses not just on what happened, but why it happened. Other business people speaking include: Virgin boss Sir Richard Branson, entrepreneur and inventor Sir James Dyson, Interbrand chairman Rita Clifton, management trouble-shooter Sir Gerry Robinson, and CEO of global advertising group WPP Sir Martin Sorrell.
It starts on May 9th at 8pm on BBC2.